LAS VEGAS — An eight-game losing streak in November could have brought the Buffalo Sabers' season to a halt soon after it began. But general manager Kevin Adams is encouraged by what he's seen recently and says the team's recent success is also part of his development.
The Sabers tied the game 2-0 on the team's trip and won the previous game at home against Los Angeles. Their last four-game winning streak was in April.
"I think we're an evolving team. We knew going into the season we were going to be very young but also talented," Adams said Monday in a conversation with The Buffalo News before the Sabers game. vs Vegas Golden Knights. "And we will have times when we start to discover our identity and our roles and responsibilities and we see it all work out by itself, which is what I think we are about and what is happening. We are a team that is learning and growing."
The Sabers went into Monday's game 15-14-2 overall and just five points from a playoff game. They have been 8-3-2 since November 22, when they ended their losing streak with a 7-2 win in Montreal, and became the highest-scoring team in the NHL.
"During the period we were on a losing streak, I felt like we played well in pockets of games, but we were kind of looking for ways to make it difficult for ourselves, whether it was a turn at the wrong time or a penalty at the wrong time, or just… Find ways to lose," Adams said. "The last few weeks we've been training really well, with our habits improving, and then we've moved on to matches.
"We're running games better, we're winning game within the game to some extent. We're still learning and growing, and it's our focus to get better every day. And that's kind of what I think is somewhat expected going into the season: We just have to be a team that learns and grows and improves."
"He's one of the best players in the world…" said Toch. "To be able to … watch him and see how he sees a play, and next thing you know nobody's open and he throws it perfectly into (Stefon) Diggs' hands. Brilliant."
The NHL trade freeze goes into effect at midnight Monday and Adams said he has had daily talks with other teams, but salary cap restrictions have made trades difficult league-wide.
"There's plenty of time," Adams said, "and we'll let that happen by itself." "But I think, in a sense, you're always open-minded. You have a plan, you have a process that you've put in place and we know we go through it, but you're always open to ways to improve your roster.
"For me, you never want to set any kind of certain expectation of 'we really want to be in this place this time of year.' We want to get better. That was the discussion. Win moments every day, win today, and you win hockey games." "
The Sabers do a lot of their wins because of the play of Tage Thompson and Rasmus Dahlin. Thompson was named the NHL's second star of the week for the second consecutive week on Monday, making the Sabers skater a star for consecutive weeks for the first time. He has emerged as a leading candidate for the Hart Award as the NHL's Most Valuable Player, while Dahlin will likely be in the thick of voting for the Norris Trophy as the league's best defensive player.
Norris Trophy winners have not had a major winner since Tyler Myers won the Calder Award as Rookie of the Year in 2010. They have never had a Norris winner and the only Hart winner was Dominik Hasek in 1997 and 1998.
Thompson entered Monday's game ranked second to Edmonton's Connor McDavid in goals (25) and third in points (49) behind McDavid and Oilers teammate Leon Drisettel. Thompson had 20 points in eight games in December and Monday, second in the league to McDavid's 21.
"I'm really excited about them as individuals, because they're having success individually, but they earn it through the way they compete and prepare and do things the right way," said Adams. "So they are a great example for our entire group."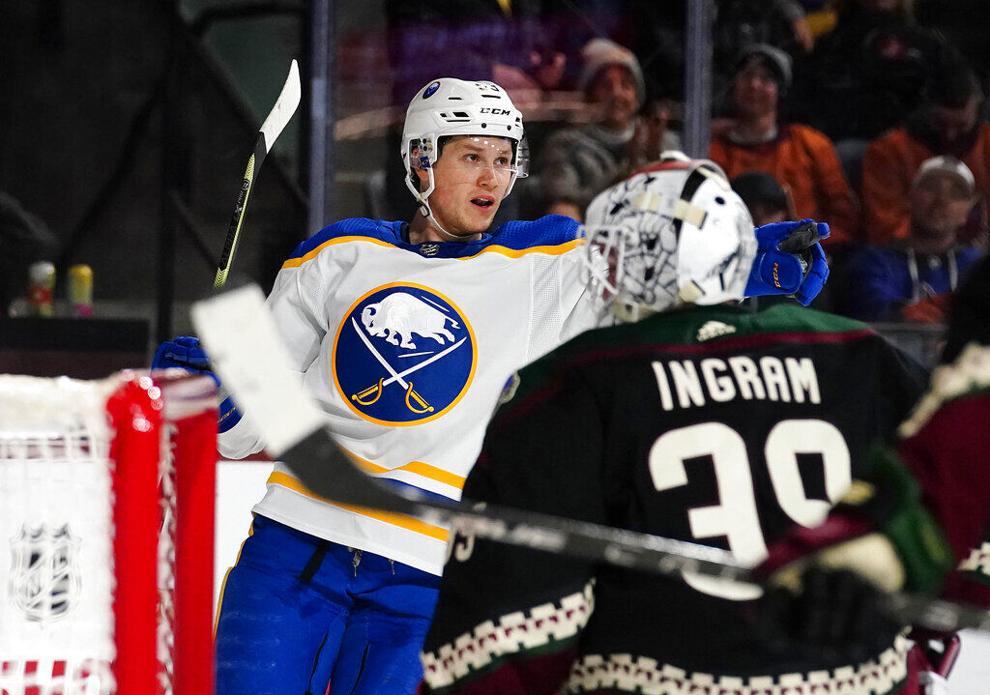 Skinner scored twice and Thompson was third coming off a three-point night as the Sabers defeated the troublesome Arizona Coyotes 5-2 to win their third straight game.
The Sabers' goaltending struggles have been a starting point for discussion most of the year, but Adams said he's been heartened by the improved play of Ukko-Pekka Luukkonen recently, as the Finn senior posted a . 931 save percentage over the last two games before getting two starts.
"Over the past week or so, there's been a calm and confidence where he doesn't seem to be chasing the game. He's more calm and relaxed," Adams said. "(Goalkeeper coach Mike Bales) has been really happy with the way he's been coaching, making minor adjustments to his game. He's in a critical period of development. It's important that he plays, no matter what league he's in."
• AT THE CENTER Dylan Cozens was next in line to get a big money extension: Adams revealed that he spoke back to Ellen Roy in the summer and told him the Sabers see Cozens as "an important part of our guy and definitely a guy we want to have and be patient with for a long time" .
"Dylan told us that's where he wanted to be, too," Adams said. "So I'm open to those conversations and we'll have them. As long as you're working directly behind the scenes in the same way and you both want the same goal, I think you can get those things done. So we're definitely excited about the season he's had and the steps he's taken."
• GM said the team still has to decide whether Eric Comrie will begin conditioning for the Rochester couple before returning to the lineup now that he's rehearsed from the knee injury he suffered on November 16 in Ottawa.
• In the first round, Matt Savoy was selected by Team Canada's juniors: "I've been really happy with his season. I watch his bout tapes and I'm happy to talk to our development team who go to quite a few games. It's disappointing that Matt doesn't get the chance But I believe in the kind of person he is and the way he deals with it he will use this as motivation.
"He's playing the game with really incredible intensity. In my messages to him, you have one or two ways of taking this stuff: You can get frustrated and negative and disappointed, or you can turn it around and say, 'Okay, I'm going to show you why I made a mistake.'" And he took the last one."
On Monday, the Sabers officially loaned Rochester forwards Jiri Kolic (Czech), Isak Rosen (SWE) and Sweden's Noah Ostlund to their national teams to play in the Junior World Championships that open next week in Nova Scotia and New Brunswick.
• When adding to the defensive pipeline: Adams noted that young players like Dahlin, Owen Power, and Mattias Samuelsson often stay in development mode at their age and are not NHL announcers. Adams said the trade of Oskari Laaksonen to Dallas last week was the result of the player's frustration with "not seeing a path" moving forward with the Sabers.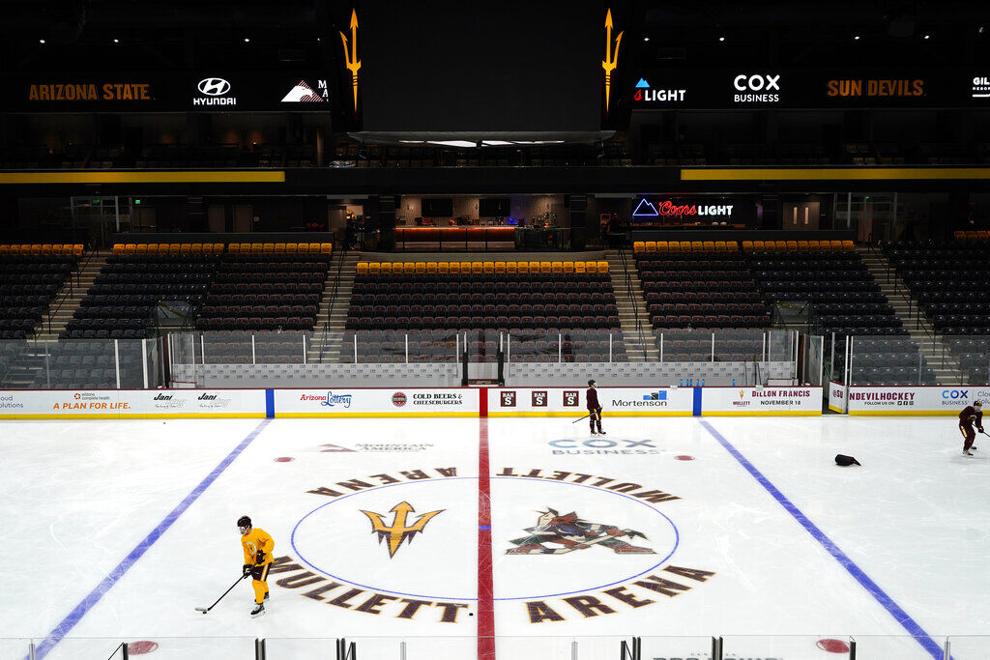 Mike Harrington wrote: "The first thing you notice about Mullett Arena is the noise. It's everywhere".
• On a new schedule: Adams attended an NHL Board of Governors meeting last week in Florida with owner Terry Pegula and said he would prefer a shorter lead-up and an expansion to 84 games to accommodate more divisional competition.
"Training camp now is very different than it was 15 years ago," he said. "You can come to camp and practice two or three times and play. The players are more willing to play. … It's up to (Gary Pittman and Deputy Commissioner Bill Daley) and the NHLPA to discuss but whatever is best for our league and makes more sense for it. I'm for it."