The unofficial drama is pretty much over, which means we've reached the least eventful part of the year for most baseball fans. However, with the days counting down until the start of spring training—the pitchers and catchers participating in the World Baseball Classic will report to their camps no later than February 13—we can at least expect remaining free agents Finding a landing spot, plus each team's roster ads for NRIs (non-resident invitees to big league camp). And if we're lucky, a big deal or two might drop.
Whatever happens, we have it Opening tracker today It will continue to be updated with a list of every player who will report to Major League Camp, as well as expected roster status.
Here's a quick primer on who will be in the Major League camp, what happens when rosters are cut back to 26 players, and how our tracker can help you keep up between now and Opening Day.
Who is in the major league camp?
The full squad consists of each team's 40-strong roster and a group of non-invitees (NRI). A non-roster invitee must be added to the 40-man roster if they exit camp with a major league club.
What happens when a player is officially out of the running for a spot on the Opening Day roster?
If one of the players on the 40-man roster does not make the team, they are selected to the minors; Unlisted invitees are reset. They will continue to prepare for the next season at Little League Camp. However, this does not completely exclude them from making the Opening Day roster. Circumstances can change, usually due to injuries, and a player may be reinstated after being sent off.
Many players who sign minor league free agent deals during the offseason have a clause in their contracts that allows them to withdraw by a certain date (or multiple dates in some cases). If a player feels they have a better chance elsewhere, they can request their release if they are not added to the 40-man roster by the official opt-out date.
What happens when a player is injured?
If a player on the 40-man list is not healthy enough to start the season on the Opening Day list, he must be placed on the MLB injury list (7-day, 10-day, 15-day, or 60-day). A team can open up a spot on the 40-man roster by placing one of the players on the IL 60-day roster.
Invitees who are not on the MLB Injured List cannot be placed. They will be reassigned to the minors and placed on the MiLB injured list once the season begins.
How to use the opening day menu tracker
Along with projected opening day status, the tracker includes dropped board appearances or roles held, age, location, time served, and remaining options. Those with a light brown background in the name column are on the 40-man list; Those with a white background—the uninvited on the list or those on 60 Days IL—are not.
For players not included in the Opening Day Predicted roster, their status is listed as candidate for lineup, bench, lineup/bench, rotation, base bullpen, or rotation/bowling. Some prospects are only in the major league tryout camp and are not competing for a roster spot. I do not differentiate between those potentials and those likely to be on the list. Until they get reassigned to minor league camp, I'm assuming they're candidates for the Opening Day roster.
There are nine options in the Expected Opening Day Status drop-down list:
The full spring training roster: Every player in the major league camp.
Projected 26-man list: My current predictions for the opening day list.
NRI's expected 26-man list: There are currently only five players on this roster, but that number is expected to increase exponentially as veteran pro clients begin to settle minor league contracts, and as injuries occur during spring training and opportunities open up. Last season, there were more than 40 off-roster invitees whose contracts were bought out before Opening Day.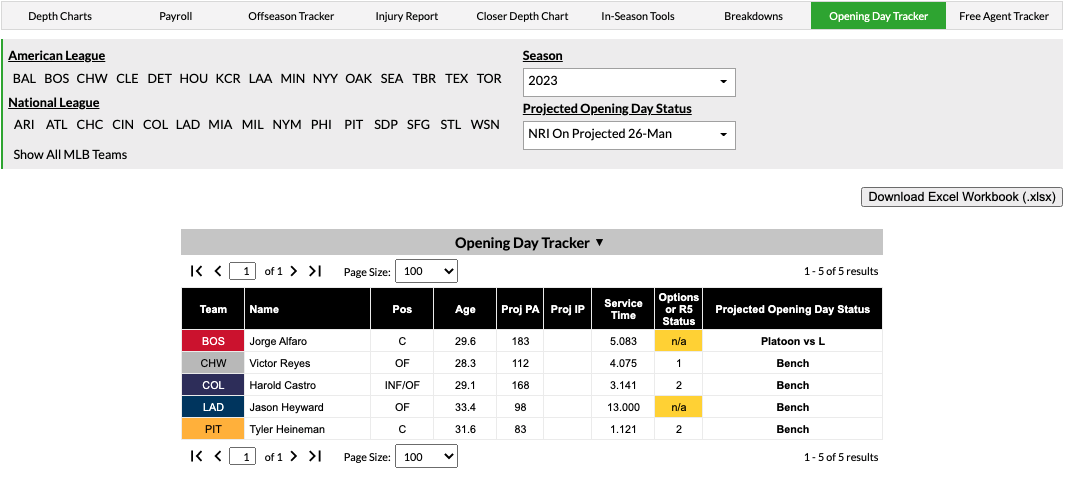 Not on the expected list of 26 men / still in camp
Still in the camp
Guests from outside the list: There are 223 non-invitees on the list as of today. This total is likely to be about 30-35% of the projected total of NRIs who will report to major league camp.
No longer in camp: Players who have been picked up, reassigned, released, or placed on the injured list.
restricted list: Players currently on the restricted list are not officially in camp, but may be added should they be returned. In case Fernando Tatis JrHe will be in camp but will continue to serve his suspension once the regular season begins.
injured: Players who are on the injured list, expected injured list, or expected injured list (MiLB).